I couldn't resist that title. I really do feel like I have to just suck it up on a lot of things in my life, which isn't always a pleasant thing. And in the past few weeks I've been having a very rough time sucking it up - sucking up (in) air in particular, because of some serious asthma that's kicking my ass.
However, this time I'm actually very excited about two new ways to really suck it up: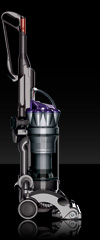 The Dyson DC17 Absolute Animal
And the Dyson DC16 Root 6.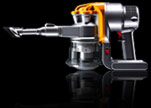 And both for around half the regular retail cost through a Dyson employee's "Friends and Family" discount. I don't think I could have ever justified the cost if I were paying full retail (and these suckers just never go on sale), but this will be a sweet early holiday gift to ourselves. With all my focus on not wanting to be wasteful, I'm feeling a wee bit guilty that our current vacuum cleaner is less than 4 years old and works perfectly, but despite it having a "hepa" filter, it stinks. It works fine, but there's this smell that just never goes away with most bag vaccuums even if you change the filter and clean that sucker out as often and as well as you can. I have received promises all around from current Dyson owners that the Dyson's don't stink.
I just love new toys for the house. Oh, and the handheld? I... um... kinda sorta forgot to double-check with V about ordering that before I added it to the order form. Oops.